Щенки ирландского сеттера
НАШИ ЩЕНКИ

ИРЛАНДСКИЙ СЕТТЕР

телефон: (812) 767 10 02, мобильный (812) 933 55 81 Елена
E-mail:
11helen11@mail.ru
телефон: (812) 306 54 32, мобильный 8 911 244 14 74 Марина
ketrix@mail.ru

27.03.08 У нас родились щенки ирландского сеттера. 7 кобелей и 1 сука

---
Помет "D" (Scirocco's Randy the Red Destiny (имп.Германия) x Ch.Shadwell A Taste of Honey) рожд. 27.03.2008 .
Щенки ирландского сеттера
У нас еще есть щенки на продажу
Звоните и пишите.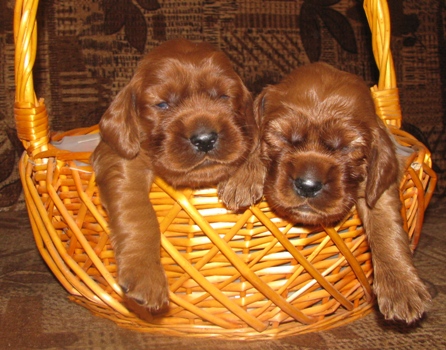 Помет "А" (Ch.Erinade Extinguished x Ch.Pendledell Anise) рожд. 10.10.2003 .
---
Ирландский сеттер в картинках

Нам уже 10 недель (щенки Фила и Хани)
Суки

Из жизни...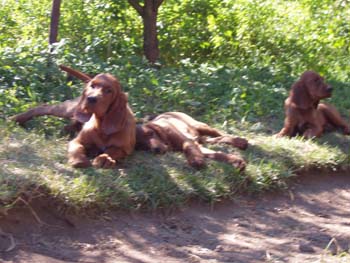 А нашим малышам 3 недели

---
Нам 2 недели (Щенки Фила и Анис)
---
30.06.06 У нас родились щенки. 6 кобелей и 4 суки


Интер Чемпион, Ч.России и Эстонии
Scirocco's Phil the Red Destiny
X

Чемпион России
Pendledell Anise
7 мая 2006 года родился помет от Интер Чемпиона, Ч.России и Эстонии
Scirocco's Phil the Red Destiny Х Ч.России Shadwell A Taste of Honey
Страничка щенков

Интер Чемпион, Ч.России и Эстонии
Scirocco's Phil the Red Destiny
X

Чемпион России
Shadwell A Taste of Honey
---
---
АНГЛИЙСКИЕ СЕТТЕРА

---
На главную страницу
Наш E-mail адрес:
lena@setterworld.ru
телефон (812) 933 55 81